Passing a test unlocks additional classes (listed below). Failing a test reveals strengths and weaknesses, so you'll know what you need to work on. Also, it's FUN!
Unlock the following classes by passing the Advanced Flips advancement test:
Intermediate Advanced Flips
Open your ZenPlanner app and register for the test the same way you would for normal classes. Then just show up as you normally would for a class.
The Advanced Flips advancement test is being administered on the following dates:
Tuesday, June 14th at 5pm
Monday, December 5th at 5:30pm
Your can find the full list of monthly testing details 
HERE
.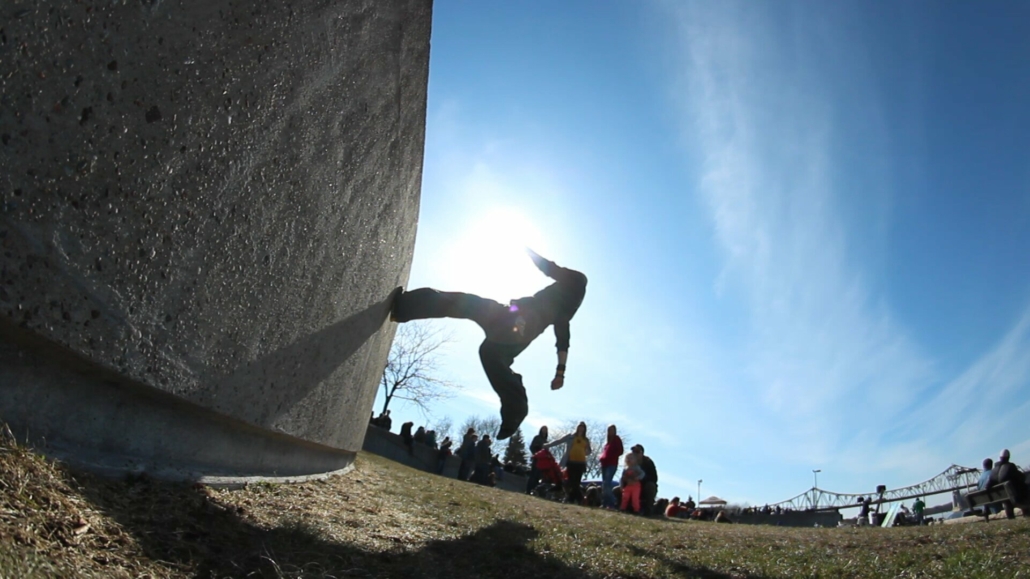 Each skill is scored from 0 to 10 points. In order to advance, students must accumulate a minimum of 112 points out of 140 total points, this equates to an average score of 8 or better on each skill. Any skill scored 0-2 will be an immediate failure, so be sure you review each skill and ask a coach if you have any questions.
Perform front, side, and back flips on the floor.

A run up is allowed for front and side.

Can use a single red mat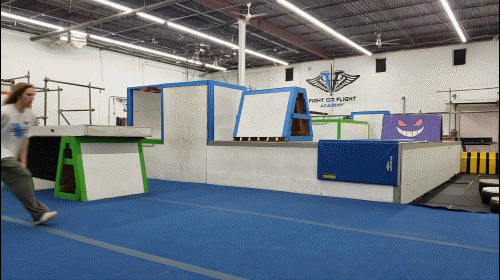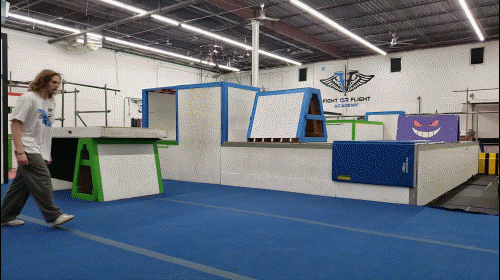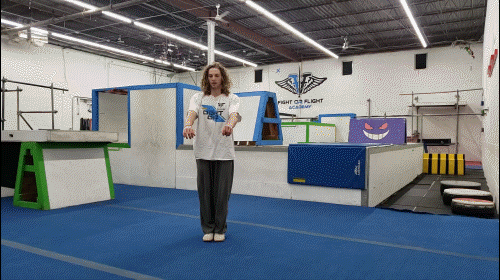 Perform a handstand 360 on the wall facing either direction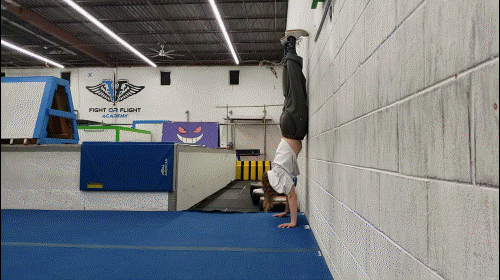 Perform a back handspring on the ground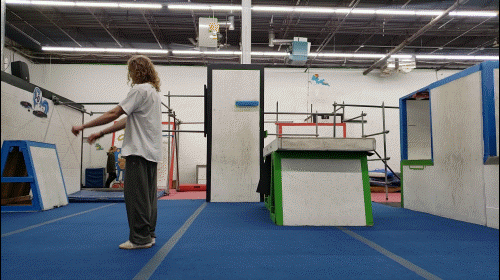 Perform a cartwheel to side flip onto a red mat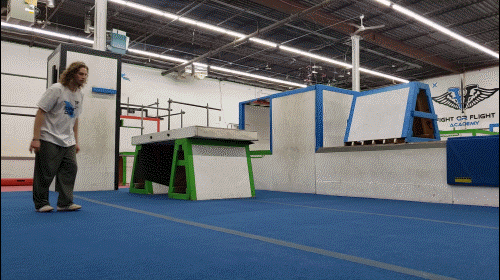 Wall inward side/front timer
Using the 7' box, perform an inward side/front flip timer onto big squishy from the gray deck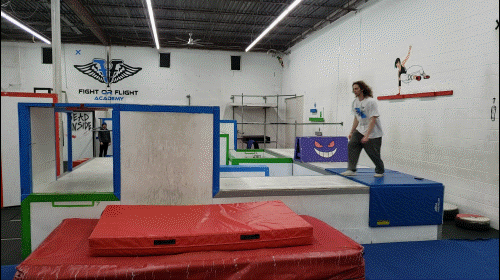 Perform a Webster front and side off of a tire to a red mat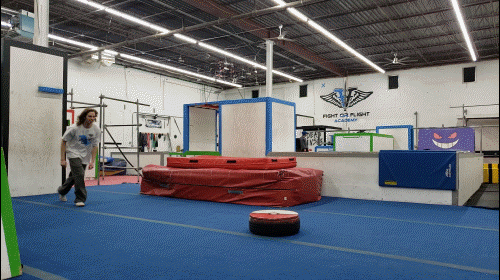 Perform a vault to a Webster front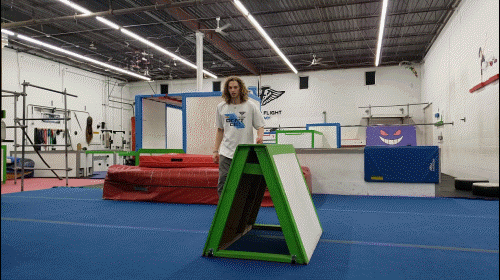 Roll to front and side flip
Perform a shoulder roll to side flip, and a forward roll to front flip onto big squishy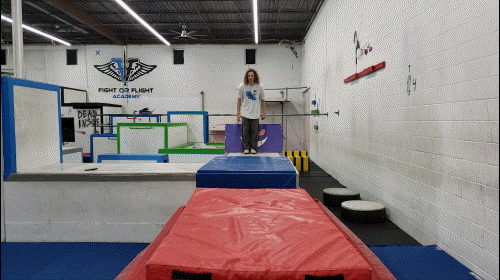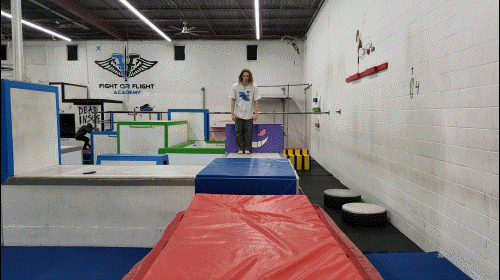 Perform a front handspring on the floor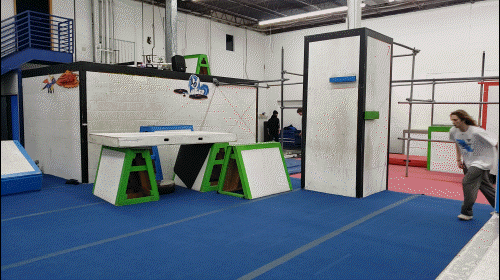 Perform an Arabian from the deck to big squishy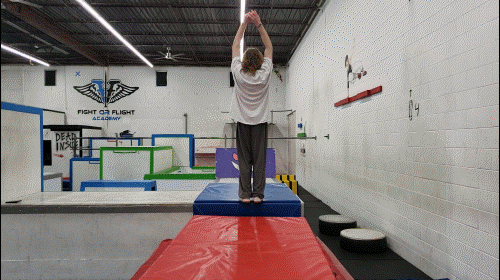 Flip with a different shape
Perform either a side, front, or back flip with any appropriate variation (pike, x-out, layout, flash)
Round off back flip timer
Perform a round off to a backflip timer onto big squishy from the ground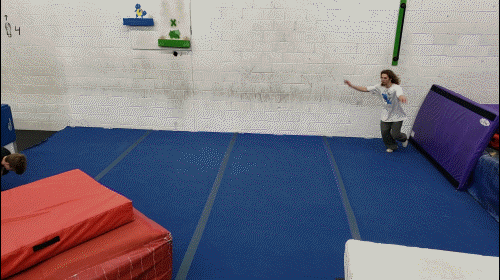 Perform a gainer onto big squishy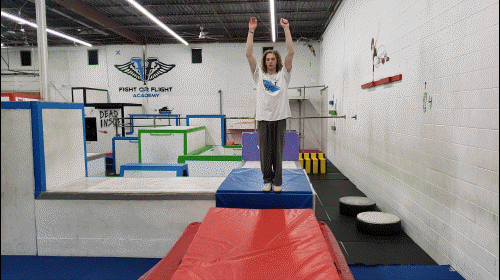 Perform a push gainer timer on to big squishy from the 7' box