Brace yourselves, changes are coming!
---
Overview
We have spent a huge amount of time and effort adjusting the schedule based on feedback we have been getting. The biggest change is that every class now starts on the 30min mark. Most classes remain in essentially the same spot, just shifted earlier or later by 30min. This will allow people who get off work at 5pm to now take the 5:30pm classes, and avoiding traffic becomes easier with 6:30pm classes.
These changes also include opening on Sundays for the first time in our history. We have also added eight more Junior and Youth Parkour classes, and we have added five new Open Gym times earlier in the day.
Sundays
Our Sundays are going to start small at first, but if they happen to be a popular day, we will expand our Sundays with more classes. We are adding a new type of class on Sunday called a "Hybrid Class". It is a new 90min class that includes both Level 2 "A" and "B" subjects combined. This is a great class for people who may have missed both Level 2 classes during the week, or for those students on the upgraded memberships to practice both skills from earlier in the week and combine the movements together.
Junior and Youth Classes
We have been working hard on expanding our Junior and Youth Parkour programs, and are opening up eight additional times throughout the week that accommodate a broad range of schedules. Additional information about these classes can be found HERE.
Youth Level 2 Classes
We have added a new level for Youth Parkour students. Previously, we were moving our more advanced youth students to the teen/adult classes, but we have found that while their skill level is high enough, it can't make up for their height difference.
Right now we are only opening up one Youth Level 2 class on Saturdays at 10am, but as our Youth students start getting better, we will be opening up more time slots.
This new Level 2 class is a 90min class, and their membership will include ALL Open Gym times.
Open Gyms
With the addition of the new Open Gyms, we have shortened all of them to be 90min long instead of two hours long. We found most people weren't staying the full two hours anyways, and we needed to make room for the earlier Open Gym times.
---
Here is the full schedule that goes live on February 1st, 2018:
*Please note, there may be some slight alterations to this schedule as we gather feedback.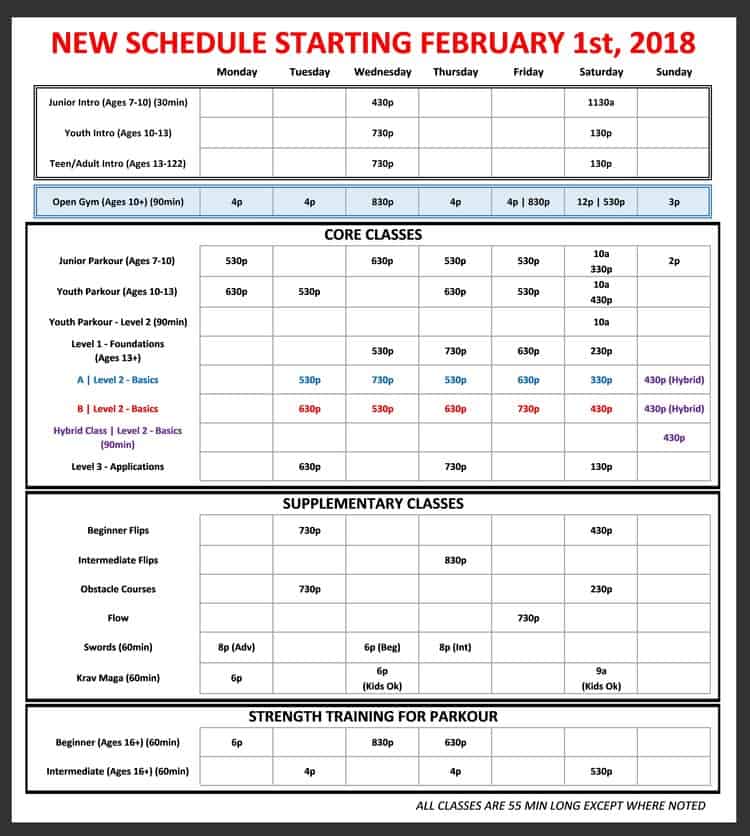 This is a big change, and we know a lot of you probably have questions. Please email us at contact@fightorflightacademy.com, call us at 952-405-6110, or stop by, and we will be happy to answer any questions you have.